How to hide or unhide Excel Ribbon or Menu bar ?
  The collection of commands are in the Ribbon. It have default File, Home, Insert, Page Layout, Formulas Data, Review, View tabs and you can include Developer tab also customised Tab.
Excel ribbon is missing ?
you can Turn off or turn on the ribbon, short cut for OFF or ON Ribbon Ctrl + F1
if you need more space in worksheet, collapse the ribbon so only tab name show to ON or OFF right click on ribbon you will get following message box.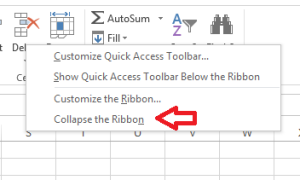 select collapse the Ribbon to OFF the ribbon or Press Ctrl + F1, to ON ribbon remove the tick from collapse the Ribbon or Press Ctrl + F1
or
Click the Pin to ON the ribbon refer below image

Click learn about Add Customized Ribbon and Add Developer Tab